At Revolucion de Cuba, our expertly trained bartenders are called Meseros and you can guarantee that if they love a rum, you will too. One of the spirits they particularly love is Plantation Rum. 
If Plantation Rum is new to you, allow us to introduce you to the No.1 favourite brand by bartenders (as voted by bartenders in the Drinks International Magazine Awards).
The History
Plantation is produced at the West Indies Rum Distillery, which is located on the beach in Barbados. The distillery is owned by the Ferrand family who are well-known for being agriculturally focused.  
Alexander Gabriel is the founder and master blender for Plantation. A master blender is somebody who develops and evolves spirits, in this case: Rum. He does this by using a combination of different spirits, all with unique characteristics. Each of Alexander's creations is a quest of the heart because he focuses on the traditions of rum making, whilst using innovation to represent each corner of the rum category. 
To make the perfect Plantation rum, the spirit spends most of its life ageing in warm, tropical cellars all around the world. It starts in Barbados but can also be found in Fiji and Peru! The rum remains in its barrels and travels across the sea to Cognac in France. Here, the rums are doubled aged using ancient and traditional Cognac making techniques. 
This extra step adds a new layer of flavour to the Plantation Rum, which might just be why it's an award-winning rum. 
We have stocked Plantation rum at Revolucion de Cuba for the past 10 years. It's a team and a guest favourite, so allow us to the four iconic varieties available: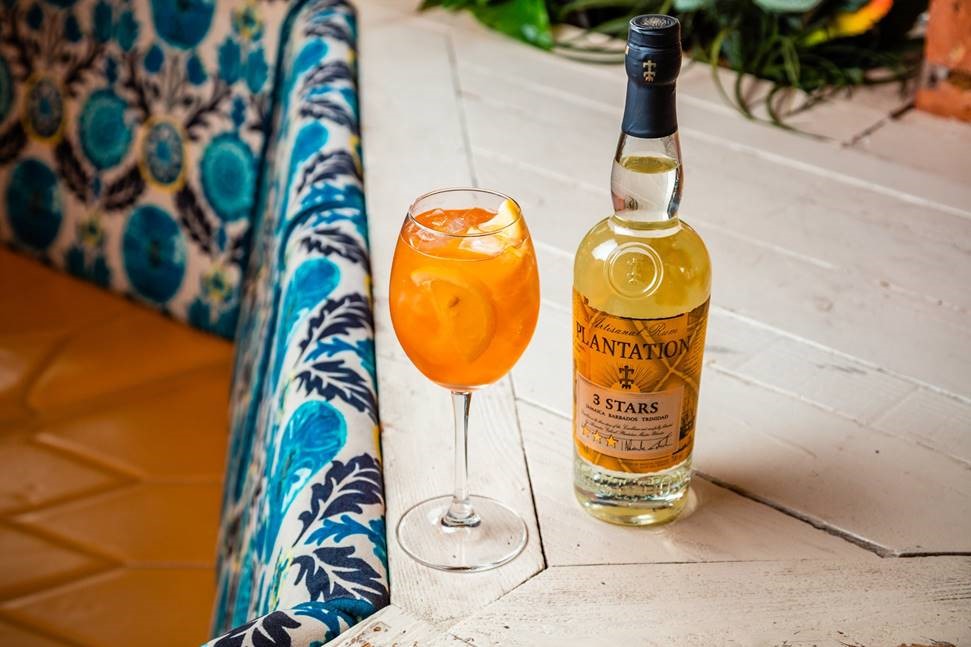 Plantation and Revolucion de Cuba
Plantation Stiggins Fancy Pineapple Rum
Flavour Profile: Deep texture with light peppered spices backed by a pleasing bitterness and roasted pineapple, with hints of warm spices. 
Aromas: Pineapple, Caramel, Molasses 
This delicious handmade rum is a blend of the traditional Plantation 3 Stars White Rum (read more on that below!) and Plantation Original Dark Rum. The white rum is infused with the skins of fresh Queen Victoria pineapples for three weeks and then distilled in pots. 
Whilst that is happening, Plantation also infuses the juicy flesh of the pineapples into the barrels used for the Plantation Original Dark Rum. After the flesh has been infused for three months, the two rums are blended to create a delicious sipping rum that also adds a tropical pineapple twist to your favourite cocktail. 
Plantation O.F.T.D.
Say hello to the revival of a classically styled overproof rum.  
Flavour Profile: Bursts of caramel cream, chocolate, and vanilla notes. This continues with raisins, nutmeg, oak, and molasses all with smoky accents. 
Aromas: Coffee, Orange, Plum, Jam, Truffles. 
This magnificent blend emerges from three different islands in the Caribbean. Firstly, it includes 2 to 5-year-old rum from Plantations West Indies Rum Distillery in Barbados and this is blended with a 1 to 2-year-old rum from the Demerara Distillery in Guyana. It's then blended with a 1 to 2-year-old high ester rum from Long Pond Distillery in Jamaica and a touch of 10 to 15-year-old rum from Jamaica pot still. This final blend is then rested in a wooden vat for six months before being bottled and shipped out across the world; including to your favourite Revolucion de Cuba. 
Officially, O.F.T.D stands for "Old Fashioned Traditional Dark". It was curated by seven rum experts in secret, and if you look closely at the bottle, you'll be able to see their faces on the label. 
This rum is rich, flavourful and at 69% proof is considered one of our stronger rums. It'll perfectly cut through your mixer of choice and add an extra level of the tropics to your cocktail. 
Plantation XO
Flavour Profile: A big hit of toasted coconut and banana. Enhanced by more complex aromas of cocoa, cinnamon, candied orange, spice cake, and cigar box. 
Aromas: Flora, Fruit, Vanilla, Cocoa, Milk Chocolate, Exotic Sugar Cane 
Plantation XO is an exquisitely smooth and tropical luxury rum. Year on year, this particular rum has won awards and is considered a favourite sipping rum amongst many. 
To curate this exquisite rum, Plantation blend both pot and twin column still rums that have been tropically aged on the beaches of Barbados for anywhere between 8 to 15 years, at the Plantation West Indies Rum Distillery. It is then blended with Cognac for a further 2 to 10 years in different casks. These casks can vary from new white oak to Bourbon casks and even Ferrand Cognac casks. Each style of cask yields varied toasting levels but all deliver a smooth, creamy, and rich style of rum.  
And last, but by no means least we have the iconic Plantation 3 Stars White Rum
Plantation 3 Stars White Rum
This smooth white rum is full of flavour and gives a long dry finish making 3 Stars the perfect rum for cocktails… It is why it is our Rum of the Month and why we have included it in all of our limited edition serves.  
Plantation 3 Stars White rum is a blend of unaged and 10-year-old pot still Jamaican rum. This unique blend brings a full-flavoured, high ester burst (aka strong flavours; learn more about esters here). Next up this includes a 2 to 3-year-old column still rum from Trinidad that provides a light spice and delicate structure. Finally, twin column and pot still rums from the West Indies Rum Distillery in Barbados add a smooth, balanced and creamy texture to this incredible white rum. 
Flavour Profile: A bittersweet and supple flavoursome blend of root beer, dark chocolate, toasted marshmallow. This is truly white rum at its grassy, herbal best. 
Aromas: Honey, Coffee, Cocoa Bean, Vanilla, Baking Spices 
Ready to try Plantation Rum?
Visit your favourite Revolucion de Cuba in June to explore our Rum of The Month cocktail specials.  
Whether you're looking for a fruity Daiquiri; Raspberry Daiquiri, a refreshing Aperitif; Rum St. Clements or just want to get to know the "perfect serve"; Plantation 3 Stars Perfect Serve we can guarantee one thing… That you'll leave loving it as much as our Meseros do.