Christmas is a time for extravagance. There's no doubt about that.
Turkey, a few spuds and some flavourless veg. Be honest, who wants to follow the same old Christmas dinner routine this year?
Not us, that's for sure! Here at Revolución de Cuba, we've thrown out the yuletide rulebook in favour of decadent feasts, seriously seasonal handcrafted cocktails and festive Christmas parties infused with incredible Cuban flair.
So seeing as 'tis the season, here are some of the hip-shakingly awesome ways we'll be turning up the heat this Christmas.
Say adios to soggy sprouts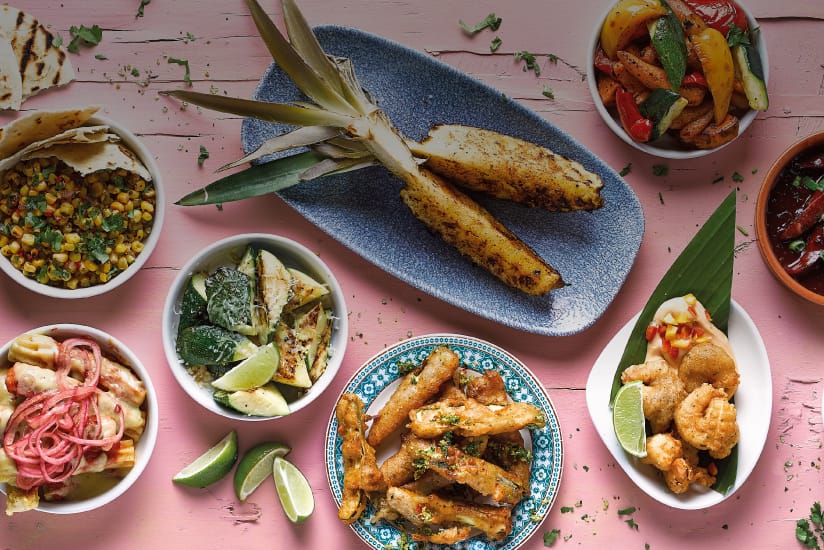 Let's be honest, there's a time and a place for soggy sprouts, stale stuffing, and forgettable gravy, and your Christmas party right here is NOT it. Instead, we'll be serving up three courses of festive treats with our signature Latin twist.
Think tender Tropical Chicken Skewers to kick things off, perfectly slow-cooked Short Rib of Beef for your main event, and warming Colombian Chocolate Brownie to satisfy your sweet tooth.
Sound good? Well, we've got loads of three-course options to fire up your Christmas fiesta.
Treat your taste buds to a tapas feast
It might not be the most traditional way to dine this Christmas, but we can guarantee one thing… It's definitely the tastiest!
With our festive, easygoing banquet of nibbles like Cuban BBQ Glazed Chicken, Slow-Roasted Pork Shoulder and even our homemade Caribbean Chicken Curry, all served with tapas classics like albondigas and patatas bravas, this is sociable, family-style dining at its finest.
And most importantly, it's completely YUM!
Start the fiesta with our Maximo Cocktails
Let's face it, considering it's Christmas, you're probably thinking about spoiling your guests this year?
Well, it that's the case, look no further than our famous Maximo Cocktails. After taking cocktail signatures you know and love, we've made them perfect for starting the fiesta by giving 'em all a share-worthy serving.
With classics that deserve to be shared like our twist on an Old Fashioned, our huge celebratory G&T, and our Ultimate Cuban Pornstar which arrives at the table with an ENTIRE bottle of Bolla Prosecco, these giant blends are perfect for a boozy Christmas party.
Indulge with our Mostrador buffet
There's no doubt about it, this is the Cuban way to indulge.
We've taken our best-loved dishes, Slow-Roasted Pork Shoulder and Short Rib of Beef, paired 'em with all your favourite tapas feasting bits like Calamari and Honey & Lime Chicken Skewers, then served it all buffet-style on our HUGE custom made Mostrador serving counter, and the result?
A Christmas dining experience perfect for the biggest parties.
Fancy a Christmas at Revolución de Cuba do that'll go down in history?
As if it wasn't already obvious… We've got you covered! As well as our decadent feasts and delicious cocktails, we pack all our Christmas parties with crazy entertainment and festive party vibes, all set to the soundtrack of a live salsa band.
So grab a Mojito, put on your dancing shoes and get ready to party all night… 'Cause it's still not too late to book!