Over the last 50 years, Cuba has experienced something of a culinary revolution.
After decades of economic restrictions on state and privately-run restaurants, the island – and its taste buds – finally started to open up, and at the very heart of it all? Cuba's strikingly beautiful capital, Havana.
With rustic, vibrant flavours served up on almost every street corner, the city has become an absolute MUST for food lovers. But what if you can't make it to Cuba anytime soon?
Well, to help you out, we're rounding up the best of Havana's booming food scene, and letting you in on how to get a taste of it all at home.
A trip to Havana isn't the same without a visit to…
The undisputed best ice cream parlor in all of Cuba… The famous Coppelia Ice Cream Parlour. And for the measly cost of 25 cents and a 30-minute wait, it's safe to say it's a bit of an experience.
Opposite the iconic Habana Libre Hotel and housed in an outlandish building from the 50s, the parlour is known to the locals as an 'ice-cream cathedral'; with stained-glass windows, a sprawling two-floored space, with classic American diner-style chairs.
Packed with locals, it's the perfect way too cool off on a hot afternoon in Havana, and soak up some authentic Cuban culture.
Surprisingly, the parlour famously only serves vanilla flavour, so if you like a bit of variety, you're better off getting a taste of Havana at home. We'd recommend our delicious Coconut Ice Cream… Three scoops of rich, creamy heaven served with sweet grilled pineapple!
Paella at El Templete!
If we're honest, El Templete is a bit of a rare Cuban breed.
A state-run establishment, the restaurant competes with the highly regarded private restaurants in service, flavour AND setting.
In fact, the setting is SO good, you simply have to sit outside if you go.
Slap bang in the middle of the Malecón, Havana's notorious 5-mile seaside stretch, El Templete is the perfect place to watch the world go by in a colourful blur of retro American cars, all while digging into their signature paella.
And 'cause we think there's something a lil' big magical about a classic paella, we've added our own as the shining star of our Cantina menu, so if you're a bit of a paella connoisseur and can't make it to Cuba?
You NEED to try our authentic Paella de Cuba!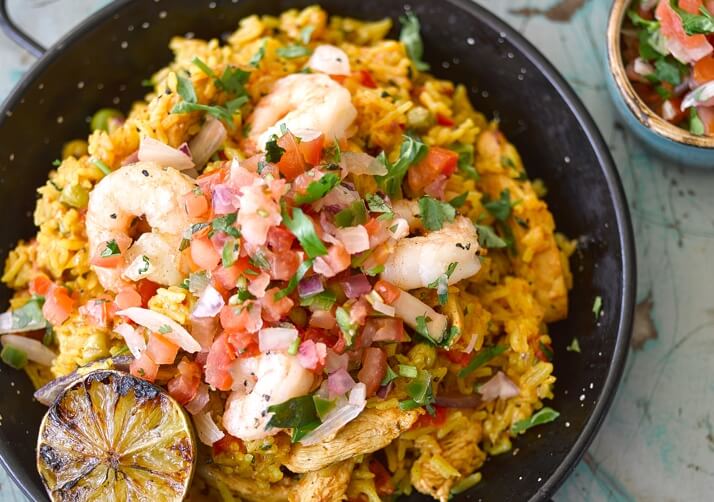 Visiting an 'emblem of the city'
Just past a decapitated statue at the bottom of a grand staircase, after a trail of washing lines loaded with clothes… You'll find a heavy wooden door that leads to the city's most legendary private restaurant. Only in Havana could you get an entrance like this!
Translated as the hideaway, La Guarida is tucked away in the heart of the crumbling, yet majestic Centro Havana district, with a lofty reputation thanks to an eccentric and uniquely Cuban dining experience.
Visits from the likes of Jay Z and Beyoncé have earned it quite the standing, and of course, the fact that it serves up Havana's best fresh fish.
And yet for all its intimate charm, La Guarida can be a little caro (that's expensive!) and reservations are a must (up to 4 weeks in advance to book!). Best way to get a taste of this kind of charm, without checking into a Havanan hotel is to try our brand new signature seafood dish, Baked Fish.
With delicately cooked hake and authentic aromatic paella rice all wrapped in a colourful banana leaf, this is completely unmissable for any seafood lover.
The best croquetas in Havana?
Well, that's easy. Get yourself down to El Rum Rum de la Habana.
Sure, the name of this 'paladar' (family-run restaurant) might evoke thoughts of our favourite sugarcane spirit. Or it might sound like one of those old American cars starting up, revving their engines…
But rum rum is actually Cuban slang for gossip, and this famous eatery in Old Havana is the perfect setting for catching up with your friends and all the rum rum!
Best visited in the cool of winter, this ambitious new restaurant pays homage to Spanish gastronomy, throat-warming shots of the hard stuff (lots of overproof rum is served up here!) and little bites of heaven, A.K.A. their delicious croquetas.
But if you can't make it to Havana in the cold winter months, let us warm you up instead with our bite-sized Chorizo Croquetas. Succulent on the inside, crispy on the outside, and, away from Cuba? It doesn't get much better than these.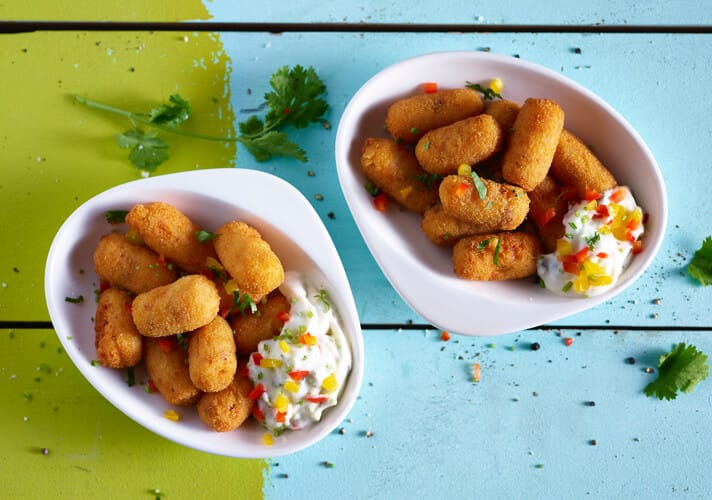 Coffee on Galiano Street
When you love coffee, you love coffee.
And there's no doubt about it, Havana loves its coffee.
Seriously, it's practically a religion here, so when you finally get round to visiting Havana, you'll find there's coffee in every house, you're never more than ten yards from someone offering you a morning cup of java, and it's nearly always served black – 'cause milk is just an unnecessary distraction from the true depth of flavour on offer.
In Havana? Hit up Pasteleria Francesa, a well-loved bakery near downtown Galiano Street for a rich, aromatic brew you won't ever forget.  
At home? Get a taste of Cuba's black gold right here, and if you ask nicely, we'll even let you have milk and a bite of our homemade brownie! 
Don't forget to grab your churros on the street!
To be honest, walking in Havana is a bit of experience in itself.
With the pastel-coloured architecture, the sounds of live Cuban jazz on every corner, and the intoxicating sweet scent of dough frying, it really doesn't get much better.
And whatever you do, let your nose take the reigns for a day and head towards the nearest churro vendor for some wonderful sticks of lightly fried dough, delicately dusted with sugar.
Or, let us transport you and your taste buds to Old Havana with our own handmade churros, served with chocolate and a homemade rum caramel dipping sauce.
They're the perfect example of Cuban street food… And the sticky fingers are most definitely worth it!
Tapas at El Chanchullero
When it comes to El Chancullero, chances are you'll have to queue, but 'good things come to those that wait' has never been more apt than at this tapas mainstay.
On the corner of El Capitolio and Plaza Vieja, this spot is a favourite of tourists and locals alike thanks to the delicious light bites of its laudable tapas menu.
Authentic flavours teased from the freshest ingredients, served in an artsy, typically humble Havanan setting. And to top it off, the Mojitos are 2-4-1 too!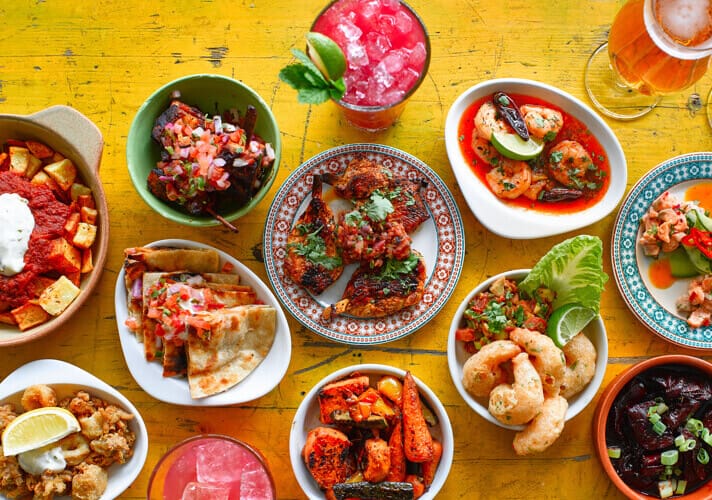 Get a real taste of Havana at home…
With our tapas menu, packed with so much Latin American pizzazz you'll feel like you're strolling along the Malecón after just one bite. 
Taste your way through the little dishes and HUGE flavours of our tapas menu, and be whisked away to Havana through your tastebuds!
To be a part of Havana's culinary revolution, book your table today.