Here in the UK, our Christmas traditions are pretty great. From pulling crackers to hanging stockings and roasting turkey, what's not to love, ey?
But what do folks do across the water? Let's dive straight in and explore some of Cuba's best Christmas traditions, straight from the sunshine islands. (Some of them might surprise you!)
Come with the music!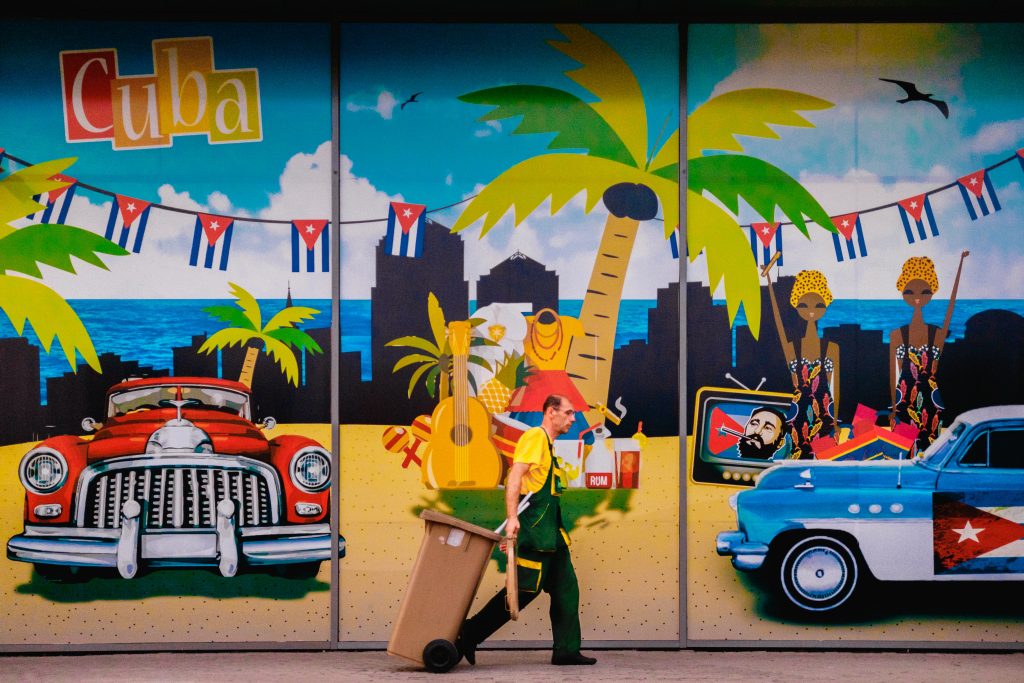 If one thing sums up a Caribbean Christmas, it's MUSIC. With everything from calypso to reggae and jazz, street performances also feature masks and fancy costumes, along with creepy characters such as the wild cow and the devil.
Acts such as The Havana Club Trio can be seen, each dressed us as a jolly Father Christmas, strolling the streets of the city, strumming their guitars. Listen out for these Three Wise Men as well as kettle drums, banjos and the good ol' trusty triangle.
Nortious P.I.G.
In the Caribbean, pork replaces turkey as the yuletide meat of choice. Baked, barbecued or stewed, whole families feast on giant hogs throughout the festive season, with an extra-special meal on Christmas Day.
Other foodie treats include peas and rice, plantain, yam and a haggis-style dish known as 'jug jug' – which dates back to the 17th Century, when Scottish exiles tried to make their own version with local ingredients. Also popular is a Caribbean Christmas treat known as 'black cake'; made with demerara sugar, cinnamon and aged rum-soaked fruits. Delicious!
Fake 'snow' is a big hit
To replicate snow-covered festive scenes, some families in the Caribbean scatter white sand from the local beaches on their front gardens to look like fake snow. If you ask us, it beats those pesky 'Santa Stop Here' signs hands down.
Like us, lighting displays are seriously popular. Many households also hang baubles, tinsel and other (generally what we would consider as 'indoor') decorations from their outdoor verandas. Well, if you get the weather for it in December, why not?!
While cleaning and DIY is the activity of choice
While we're sat on the sofa, sipping a Baileys and complaining about the weather, our Caribbean counterparts are hard at work cleaning, decorating, and getting their houses ready for Christmas time.
December is a time for starting afresh, with new furniture and decor, a fresh lick of paint on the walls – indoor AND out. All the way, the Christmas tree stands pride of place. Feather duster, anyone?
And as for drinks? Ditch the prosecco!
Christmas drinking in the Caribbean is heavy and varied; which you probably could have guessed already.
Jamaicans tend to favour the popular 'Sorrel', the undisputed drink of Christmas made from the fleshy petals of the Roselle plant. It's blended with ginger, cinnamon, cloves, sugar and orange peel (yes, similar to glühwein) to make a uniquely flavoured punch that's served over ice. Give it a go with or without rum.
And if you're a fan of eggnog, you'll LOVE Puerto Rico's coquito. This 'coconut nog' contains egg yolks, coconut milk, coconut cream, condensed milk, cloves and the all-important splash of rum. It's sprinkled with nutmeg or cinnamon and typically served cold in a shot glass… Or out of a coconut husk, for a traditionally tropical feel.
And for an unforgettable Christmas extravaganza that feels like it's straight outta the Caribbean? Get yourself to Revolución de Cuba.
Prepare yourself for incredible Latin-inspired music, flavourful feasts with knock-out cocktails and live bands – so book your Christmas party now to avoid disappointment. This fiesta's about to go DOWN, amigos!