Let's face it, perceptions of rum have come a long way in the last 30 years.
Where once it was reserved for beachside boozin', rum has slowly but surely built a reputation as an incredibly cool addition to any glass, wherever – and whenever – you may be drinking.
These days, rum has rightly earned its stripes as one of the world's most popular spirits; a star of more cocktails than we can possibly count, with a whole DAY devoted to celebrating this remarkable spirit. 
So, whether you're a stubborn naysayer or you're willing to set sail into the world of aged spirits (AND with International Rum Day on August 16th!), here are 10 reasons to fall in love with rum:
1. You won't find a more versatile spirit
It's safe to say, not all rums are created equal.
As lawless as pirates themselves, the world of rum isn't regulated by the same strict system that classifies the likes of vodka and whiskey.
This means that almost any spirit created from sugarcane can call itself a rum.
This isn't as scary as it sounds – it simply means rum has more flavours, aromas, colours, and strengths than any other spirit on the market.
While light rums balance perfectly with fruits, juices, and liqueurs; premium aged and darker rums are as good as it gets when sippin' straight up.
And so thanks to rum's versatile profile, we guarantee you'll never get bored of it!
2. There's a rum for everyone
Even if your usual tipple of choice is vodka, whisky, or gin, there's a rum out there with your name written all over it.
Due to its versatility, rum can range from clear-enough-to-kid-yourself-it's-gin-anyway to glittering gold and amber – which works great with almost any mixer.
Then there are dark and barrel-aged rums that whiskey drinkers will find comfortably familiar – thanks to flavour characteristics such as vanilla, cinnamon, and baking spices.
With so many options, if you've haven't found a rum that speaks to your soul yet… You simply haven't looked hard enough!  
3. Rum's wavy history
All spirits come with a story, some better than others.
From rum's historic creation in apparent-birthplace Barbados, to its influence in American politics, to peg-legged pirates and buccaneers and being part of the Royal Navy's rationed diet (yes, that was a thing), rum is famous for its fascinating past.
However, even though you'll always taste a touch of rum's swashbucklin' swagger, this spirit goes beyond any seaside stereotype.
With countless styles to its name, rum is by far the most storied of spirits. From island to island, country to country, rum is not just a liquid in a bottle… To many, it's a religion!
4. Rum and ginger beer is the new G&T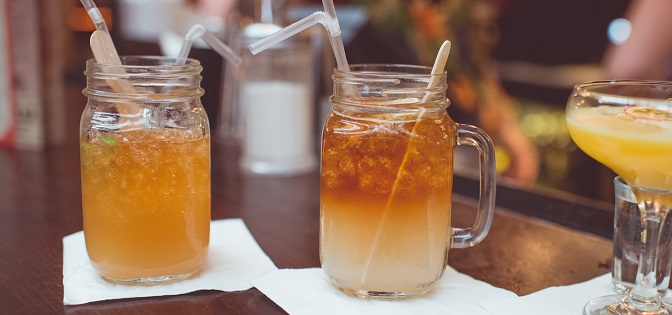 A.K.A a Dark 'n Stormy (when you add a little lime). Sweet, zingy, AND as refreshing as it gets.
Once a cult classic, the stimulating mix of rum and ginger beer has taken centre stage – not just in the trendy bars of Brooklyn and Shoreditch, but around the world too. 
And to be honest, we're not in the least bit surprised. 
When these explosive flavours land in your vessel, prepare yourself for the first taste… You'll soon feel the spice of Caribbean life in no time at all.
5. Rum takes you to the most amazing places…
There's no doubt about it, rum is most definitely a solar-charged spirit.
Born in the Caribbean and aged in tropical climates, rum will always conjure up dreams of sippin' in summer, with the smell of suntan lotion in the air and sand between your toes.
Once you find yourself under the spirit's spell, don't be too surprised to find yourself in a Caribbean beach bar at least twice a year.
Even if you're recreating said beach bar in your back garden, you won't be able to stop yourself! 
6. … And gives you the best anecdotes to tell
It's a well-known fact that rum-lovers are the craziest characters. Always with a story to tell, or armed with a kooky, boozy fact of the day. Basically – they're a great addition to any pub quiz team.
For example, did you know it's common in Jamaica to have a shot of rum FIRST thing in the morning?
Yes, you did read that right. And here's why:
Because of the way rum naturally takes on other flavours, the only way to get a true taste of the spirit is to try it when your palette hasn't been marred by a Full English, or whatever you had for breakfast that morning. Or you know, just LIFE. 
And how do we know this? Purely from chatting with a seasoned Jamaican rum-drinker. The ONLY place to get your rum facts in this day and age.
Google, you say? Come on, Google is so last year.
7. You're supporting family-run distilleries
The Caribbean is full of top-notch, large-scale rum distilleries like Bacardi, Appleton and Barbancourt, all nestled in quintessentially tropical settings.
But there are hundreds of family-run operations too, all decades-old and brimming with sugarcane-coated history.
Take for example, Doorly's. This 4th generation family-owned business has been passed from father-to-son since the 1920s.
The Foursquare Distillery in Barbados, where the rum is produced, is built on the site of a 17th-century sugar factory and is one of the most modern and environmentally friendly distilleries in the world.
You can even take tours – or support the distillery by sipping this rum at home!
8. Got a sweet tooth?
Sure, all rum is made from sugar(cane) but that's not to say that all rums are sweet.
Spiced, golden and amber-coloured rums have been aged in wooden barrels, giving them a slightly darker colour and sweeter, richer flavours, often full of strong caramel tones.
White rums, in comparison, aren't aged as long. They're lighter in colour and flavour, which means they work beautifully with an array of fruits and juices – but they can still taste sweet.
If you've got a sweet tooth and that's what you're after – a light, sweet rum – look no further than a bottle of El Dorado 3 Year Old.
Twice filtered through natural charcoal for great clarity and purity, it's aged for at least 3 years in 45-gallon ex-bourbon oak casks.
The result? A smooth rum with tones of butterscotch, white chocolate, and vanilla, that begs you back to the glass for sip after sip.
9. Or fancy a rum that packs a punch?
Then dark or overproof rum is where it's at for you.
Any rum with a higher alcohol content than 50% is considered 'overproof'. While at one time this bold style of rum was reserved for sailors, thanks to its alarming strength, it's recently become more and more popular with the hardcore-drinking land-dwellers.
In fact, the famous (and powerful) Wray and Nephew White Overproof Rum is now 'the most consumed rum in Jamaica'; as much a part of the nation as the black and gold of the country's flag.
And thanks to an eye-watering alcohol content of 63%, Wray and Nephew White Overproof rum is enough to make you say PHWOAR before you go back for more.
10. … And pirates drank it!
Seaworthy stories of drunken debauchery are the stuff of legend, but in the beginning, rum became an intrinsic part of the pirate life as a necessity, far more than a luxury.
Water would go rancid on long-haul expeditions, so mixing it with rum made it actually drinkable.
And while sailors were rationed to just one or two tots a day, pirates drank it whenever they well pleased.
And let's face it, the only thing better than actually being a pirate… Is drinking like one!
If you suddenly can't think of anything other than sippin' on a rum-based cocktail…
You're in luck! We're bringing more rum than you can handle this International Rum Day!
Whether you like your rum neat, on the rocks, or paired with the most delicious tropical flavours, we've got you covered. Book your table in advance, let our Cantineros serve you up some seriously cool aged spirits, and prepare to fall head over heels in love with rum!